A Behind the Scenes Look at the Franchising@WORK Awards
Last year, Franchise Business Review launched the Franchising@WORK study - a survey of corporate franchise employees designed to measure employee engagement and compensation within the franchise sector. With more than 2,500 participants, we were able to gather meaningful data that, for the first time ever, created a benchmark for franchise companies. With the data collected, we were also able to identify the companies that were differentiating themselves through employee engagement and culture.
Soooo Many Awards Lists... Why Franchising@WORK Is Different
There are tons of "best places to work" lists out there. They all have different criteria and different methodologies, but more importantly, most of them include companies that operate in diverse sectors. For example, Indeed's annual list has companies ranging from technology to healthcare to airlines to window manufacturers.
Many of the lists require companies to apply (and often pay a hefty fee) and give the company an opportunity to present itself in the best light through carefully crafted applications and/or hand-picked employee interviews.
Franchising@WORK is specifically focused on employees in the franchising sector so the awards and data are an apples to apples comparison. Additionally, the awards list is based exclusively on survey feedback from employees. Anyone who works in franchising can take the survey, whether their company chooses to participate or not, so it's not just a snapshot of a small number of our clients; the data is a truly objective, broad representation of the industry as a whole.
To be completely transparent, there is a nominal fee to enter ($495) for companies that would like to receive their company benchmark report; however, it is not required and employees can access an open survey link if they want their feedback to be included in the Franchising@WORK research.
But the awards are not just another list. The data we collect from the participating employees is aggregated into an industry research report that we make publicly available to support the continued growth of franchising in our economy.
How the List Is Compiled - Our Approach
The Franchising@WORK survey is open to any corporate employee of a franchise brand based in North America, employees of multi-unit franchise owners, and employees of vendors/suppliers serving the franchise industry. To be considered for a Franchising@WORK award, the company must have at least 10 or more full-time employees and gross annual revenue of 1M+.
The survey asks 24 benchmark questions across eight key areas: satisfaction, self-assessment, alignment, team, manager, leadership, culture and core values. Employees are asked to answer each question on a scale ranging from Strongly Agree to Strongly Disagree. Additional demographic questions are also asked.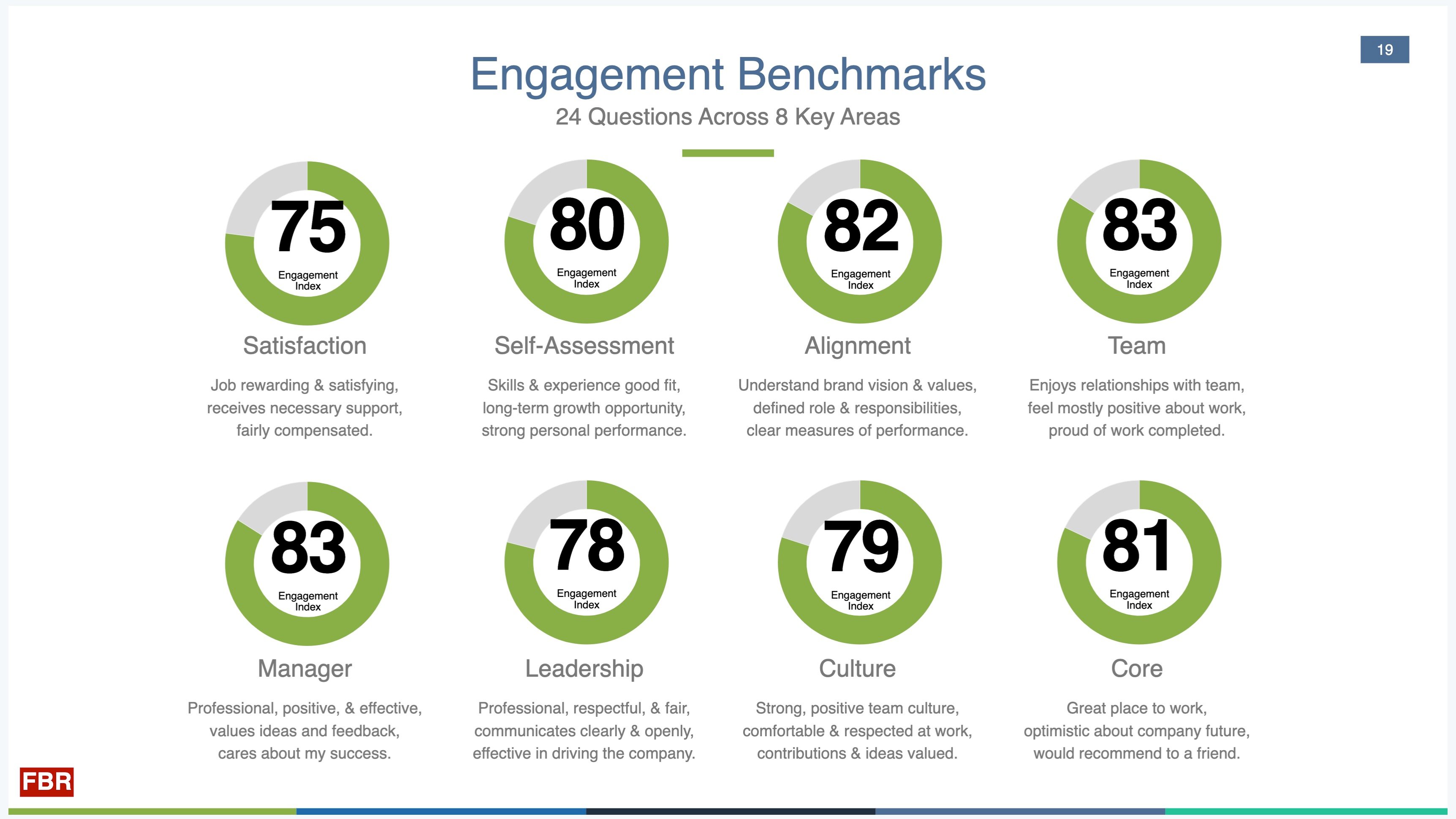 Scores for each benchmark question are determined using a weighted scale - the most positive response option (strongly agree) having the most positive effect, and the most negative option having the most negative effect. From there, a score for each key area is calculated, resulting in a benchmark score from 0-100.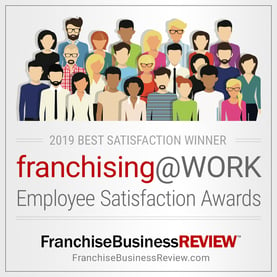 The companies with the top overall scores are named as finalists and the company with the top score in the following categories are honored with a Franchising@WORK award:
Best Culture
Best Boss (aka management)
Best Leadership
Best Compensation & Benefits
Best Overall Satisfaction
Beyond the List: Why the Data Is Even More Valuable Than the Recognition
If you are named a finalist or award winner, you'll be recognizing your team for their teamwork and contributions to making your company a great place to work. Plus, you'll have opportunities for broad exposure in FBR's Franchising@WORK industry report, through our media partners' features, on FBR's website and social channels, and of course, your own PR efforts.
Publicizing your award can also bolster your employee recruitment efforts and position you as an employer of choice - something vitally important in today's "employee's job market".
But even more important than the award recognition is the data from the Franchising@WORK research. Ultimately, our goal is to produce aggregate research data so that franchise leaders have the information and insights needed to hire and retain top talent, create a positive workplace culture in franchising, and support the growth of franchising overall.
As part of that, we can provide data to individual franchise companies to help them understand the risks and opportunities within their organizations and benchmark their employee engagement and compensation against other franchise companies.
All companies that participate receive a benchmark scorecard report, but you also have the opportunity to purchase the detailed data (and add their own questions) in order to quantify employee engagement levels and obtain business intelligence on where to make system improvements and measure success.
With that data in hand you'll know exactly where to make changes in order to:
Integrate employee engagement metrics into an organization-wide strategy for improvement
Measure corporate culture
Align your engagement priorities with your corporate priorities
Implement effective employee recruitment and retention initiatives
The detailed data also gives you access to:
Custom reporting with full company data and industry benchmarks
Department/location scorecards
Employee insights report w/ full verbatim text
Online data
Review of your results with the FBR management team


How Your Company Can Get On the Awards List
It's easy to qualify. All you have to do is fill out a simple registration form and pay the $495 registration fee. FBR will send you a link to the survey, which you distribute to all of your employees.
If you still have questions, you can read our FAQs here or reach out to us at info@franchisebusinessreview.com.